Stevie Wonder has released an reparation and an reason following comments done in an talk with The Guardian.
Asked about the acknowledgment by Frank Ocean which he's been in a same-sex relationship, the mythological musician took his foot, placed it without delay in his mouth and replied:
"I think honestly, a little people who think they're gay, they're confused. People can delude alliance for love. People can feel connected, they bond. I'm not observant all [gay people have been confused]. Some people have a enterprise to be with the same sex. But that's them."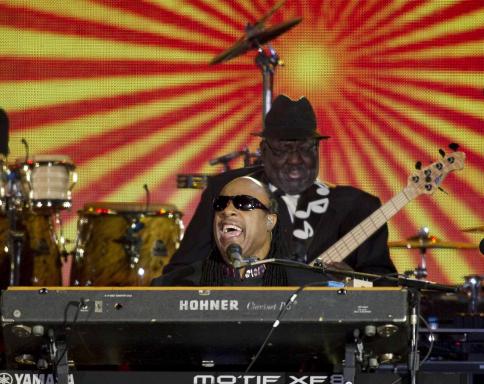 Stevie Wonder has only called to contend he's sorry.
An unusual, treacherous answer – and one Wonder fast attempted to explain in a statement. He told The Advocate:
"I'm contemptible which my difference about any one feeling confused about their love were misunderstood.
"No one has been a larger disciple for the energy of love in this universe than I; both in my hold up and in my music. Clearly, love is love, in between a male and a woman, a lady and a man, a lady and a lady and a male and a man. What I'm not confused about is the universe wanting most some-more love, no hate, no prejudice, no prejudice and some-more unity, assent and understanding. Period."