Apparently all it took to put a big grin on the face of Robert Pattinson was a outing to The Big Apple.
As formerly reported, the actress Robert Pattinson laughed by an coming on The Daily Show final night. He even ate a little ice thickk cream with host Jon Stewart.
He afterwards attended the red runner premiere of Cosmopolis.
Today, meanwhile, Pattinson rang the opening bell of the New York City Stock Exchange to one side executive David Cronenberg. Watch them do so here: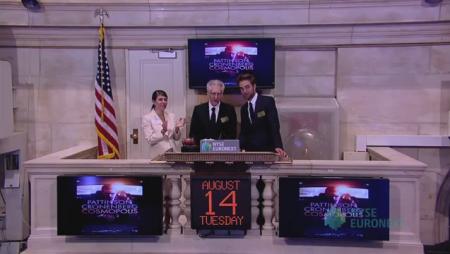 Robert Pattinson at New York Stock Exchange
What is Pattinson's state of thoughts these days? He might be great on the inside, but witnesses at the Cosmopolis afterparty final night pronounced Rob "looked happy."
"He was accessible and spoke to everybody which pronounced hello," an insider tells Us Weekly, adding which Pattinson drank a bit and smoked electric cigarettes on the rooftop club of Dream Downtown. "There was no speak of Kristen. He was smiling and shouting a lot."