Asked to take on Billboard #1 hits, a cloudy thesis which gave them scarcely giveaway rein, Lee DeWyze done an surprising preference but delivered on American Idol final night.
Lee respected the late Alex Chilton, who upheld divided final week, with the Box Tops' "The Letter," and was met with ubiquitous regard from Simon, Randy, Kara and Ellen.
It competence have even warranted him THG's tip spot, but when Crystal Bowersox channeled Janis Joplin on "Me and Bobby McGee," she reminded us because she's the favorite.
Big Mike was his typically plain self on "When a Man Loves a Woman," as was final week's star Siobhan Magnus on "Superstition." Singling out the tip 4 was easy.
As for the bottom 4 …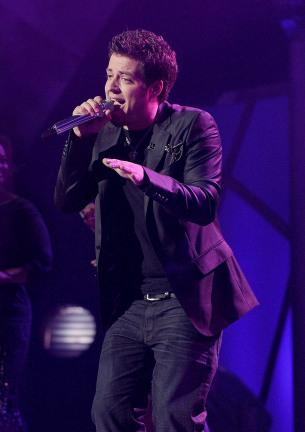 Lee DeWyze's strain preference and opening bumped him up with the contenders on final night's American Idol. Can he set up on this movement going forward?
Meanwhile, Paige Miles and Tim Urban will be opposed for a sheet home interjection to their particular performances on "Against All Odds" and "Crazy Little Thing Called Love."
Clearly not up to standard or estimable of a outing back, but one of the dual will hide by … if not both. Katie Stevens and Andrew Garcia didn't as well most to assistance their causes.
Agree with the assessment? Who do you see going home tonight? Here's how we arrange Tuesday's American Idol performances (with final week's rank):
Crystal Bowersox, "Me and Bobby McGee" (2)
Lee DeWyze, "The Letter" (5)
Michael Lynche, "When a Man Loves a Woman" (3)
Siobhan Magnus, "Superstition" (1)
Casey James, "The Power of Love" (8)
Aaron Kelly, "I Don't Want to Miss a Thing" (4)
Didi Benami, "You're No Good" (6)
Andrew Garcia, "I Heard It Through the Grapevine" (10)
Katie Stevens, "Big Girls Don't Cry" (9)
Paige Miles, "Against All Odds" (7)
Tim Urban, "Crazy Little Thing Called Love" (12)
Click to increase photos of the finalists in action …